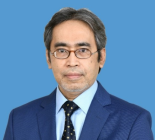 Johari Bin Minal
Director of Economics and Industry Development Division
Malaysian Palm Oil Board


Education
1991 - Bachelor of Food Science and Nutrition with Honours, Universiti Kebangsaan Malaysia (National University of Malaysia) (UKM)

Working Experiences And Achievements
2022 – present – Director, Economics and Industry Development Division
2017- 22 – Regional Manager West Asia at MPOB Karachi Office
2012- 17 – Regional Manager Americas at MPOB Washington DC Office
2006-12 – Regional Manager Africa, at MPOB Cairo Office
1998-06 – Senior/Principal Research Officer at Malaysian Palm Oil Board (MPOB)
1995-98 – Regional Manager South Asia/ Deputy Regional Manager West Asia
1992-95 – Research Officer at Palm Oil Research Institute of Malaysia (PORIM)
1992 – Research Assistant at Department of Public Health, Faculty of Medicine, UKM

Since joining the Palm Oil Research Institute of Malaysia (known as Malaysian Palm Oil Board since 2000) in 1992, Mr. Johari Bin Minal was attached to the Technical Advisory Services Unit which main functions are to provide technical support and advisory services to the importers, manufacturers, and users of palm oil worldwide in the areas of palm oil applications in food and non-food sectors, reformulation of food and non-food products using palm oil and tackling technical and regulatory issues faced by the palm oil users.

During Johari Bin Minal course of duty, he has traveled to South Asia, West Asia, Central Asia, Africa, and Southeast Asia. He was stationed in the Malaysian Palm Oil Board (MPOB)'s Advisory Services offices in Karachi and Cairo before moving to Washington DC as the Science Attache for the North and South Americas on Jan 1, 2013. W.E.F 1st August 2017, he has been appointed as the Consul Science of the Consulate General of Malaysia in Karachi as well as the Regional Manager of MPOB for Pakistan and the Middle East. Returning from Pakistan, was appointed Director, Economics and Industry Development Division WEF 15 August 2022.

Throughout his career, he delivered numerous presentations on various subjects
pertaining to palm oil at regional, national, and international levels such as AOCS, PIPOC, GOFF, POTS etc. and has helped many companies overcoming technical issues. During his days at MPOB's HQ, he held various positions including one of the lead auditors for the Refineries' Certificate of Competency (RCOC) Scheme conducted by MPOB. The scheme has been expanded to become part of the Code of Practice the Malaysian Sustainable Palm Oil (MSPO) certification scheme. He also authored articles at newspapers, magazines, and other publications.
Dato' Leong Kin Mun, a Malaysian, is the Board Member of Malaysian Green Technology and Climate Change Corporation (MGTC).

He holds a Bachelor of Surveying (Hons) in Property Management & Valuation, a Gold Medalist graduate honoured with Vice-Chancellor Award from the University of Technology Malaysia (UTM).

Dato' Leong currently serves as the President of Malaysia Biomass Industries Confederation. Previously, he served as Technical Advisor to the European Union – Malaysia Biomass Sustainable Production Initiative (Biomass-SP). He has been appointed as Chairman – Panel of Experts (Biomass) for the MREPC Automation and Green Technology Fund established by the Malaysia Rubber Export Promotion Council (MREPC). Through his company, he has been appointed by the Sustainable Energy Development Authority (SEDA) to helm two national-level consultancy studies on up-scaling financing and developing viable business cases for Low Carbon Public Transportation (Bio-CNG and electric bus) and developing green technology business plans for Local Authorities and Green SMEs. He also serves as a Board Member of Environmental Preservation & Innovation Centre (EPIC), a Centre of Excellence for Waste Management under the purview of CENVIRO and Khazanah Nasional Bhd.

He aspires and devotes to contribute significantly towards realising the National Climate Change Agenda and the Green Growth Agenda in the 5 – year Malaysia Plan. Over the last 10 years, he has been invited to speak at more than 100 conferences locally and internationally and is well connected with stakeholders along the various supply chains of the biomass industries. He has also contributed to various authorships in the field of biomass and green finance.
Alphonsus Inyang is the Group Managing Director of The Hebron Group of Companies. He is a business development and transformation guru as well as strategy and reengineering expert. He is a dynamic administrator, a result oriented entrepreneur and a prolific deal-maker. He has sound professional knowledge and experience with outstanding accomplishments both in his career, business establishment and other corporate undertakings.

Alphonsus has put in over 20 years in different sectors of the economy spanning engineering services, consulting, security technology and agri-business. This extensive experience has earned him invaluable access to and goodwill with corporate bodies and government institutions, especially in Nigeria.

Before becoming the Managing Director of its Nigerian subsidiary in 2010, Alphonsus was the Country Manager of the Chicago based Axxent Corp, Inc., for five years.

As an Agro-entrepreneur, Alphonsus Inyang has made major investments in Nigeria, Ethopia, Sierra Leone and the Americas, covering different areas of agriculture. He started making substantial investments in the Agricultural sector even before formally establishing an agriculture company.

His agro investments span different Crop farms in Northern Nigeria, Rice cultivation covering over 5,000 hectares in different parts of Nigeria and Rice processing and milling capacity of 120 TPD in Akwa Ibom and Kano. Others are hatchery, poultry, fish farming, feed milling, soya processing and palm processing.

In 2013, Alphonsus formally founded Hebron Integrated Farms & Mills Ltd, as a flagship of his Agro business endeavors. And ever since, he has expanded operations to many other areas and sectors which has birthed.

Though currently pursuing two Master Degree programs in Project Management and Agro Business Management in the University of Chichester and Rome Business School, in the United Kingdom and Italy, Alphonsus has a Post Graduate Diploma in Development Planning & Administration from Institute of Development Administration of Nigeria, University of Ibadan.

He led the team of Agricultural experts that designed a post Ebola economic recovery program in the Agriculture and food sufficiency program which is under consideration by the Sierra Leonean Government and development partners named Sierra Leonean Accelerated Agricultural Development Program (SLAADEP).

As a way of taking impacting rural Africa with his wealth of experience Mr. Inyang founded in collaboration with some Americans, Ethiopians and Sierra Leonean nationals an NGO: Agriculture For Rural Africa (AFRA) to increase access to funds, markets, technology and training among Small Holder Farmers across Africa.
Dr. Sim Choon Cheak
Principal Agronomist II / Vice President II
Sime Darby Plantation Research Sdn Bhd, Malaysia

Dr. Sim Choon Cheak is an outstanding agroecological researcher with more than 15 years of experience. He began his career as an Assistant Research Officer upon graduating with 1st Class Honour in Biotechnology from Universiti Putra Malaysia. He has carried out extensive scientific works in rubber and oil palm agronomy, soil survey and suitability, and terrain analysis.

While keeping his research in progress, he continued his study and gained a PhD in Plan Nutrition and Soil Fertility from Universiti Putra Malaysia. Dr. Sim is now the Principal Agronomist II/ Vice President II at Sime Darby Plantation, a key role he has been responsible for from 2018.
Dr. Sathia Varqa
Dr. Sathia Varqa is the co-founder of Palm Oil Analytics (POA), an online publisher of palm oil daily news, price, data and analysis based in Singapore, serving global commodity markets.
POA publishes daily reports covering price assessments, analysis of key data and market commentary.
Sathia previously worked for S&P Global Platts, a division of S&P Global (previously McGraw-Hill Finance) based in Singapore. Last year he was appointed as adviser to the MPOB (Malaysia Palm Oil Board) Techno Economics Research committee.
He holds a BA (Business Studies) degree, Master's in international Trade (Distinction) and a PhD in political economy from Aberdeen, Scotland, UK
www.palmoilanalytics.com
Join me on
Linkedin
group:
Palm Oil Analytics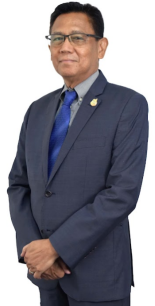 YBhg. Datuk Haji Daud Amatzin, PJN, AISP, FISP
YBhg. Datuk Haji Daud Amatzin has about half a century of his career experiences in the Malaysian palm oil industry up until he was appointed as the Chief Executive Officer of the Malaysian Palm Oil Certification Council (MPOCC) in August 2022.

At present, he is also serving on IMPAC Board of Trustees and Deputy President of the International Institute of Management. He is the Chairman of the Incorporated Society of Planters since 2009.

He was previously Vice President, Head/Group Occupational Safety and Health (OSH) of FELDA Global Ventures Holdings Berhad (FGV) from 2011 – 2014, where he established a dedicated OSH division and actively led the organisation in OSH matters in achieving zero tolerance. He developed a core of 126 safety health officers and registered 32 with the Department of Occupational Safety and Health (DOSH) Malaysia. Prior to that, he was Executive Director, Head of Central Zone (Operations) in FELDA Plantations Sdn Bhd, FELDA Holdings Berhad in 2010/2011 and established Akademi FELDA when he sat as the Chief Executive (2007/2010).

Datuk Daud Amatzin was the Chief Executive of Incorporated Society of Planters (ISP) from 2005 to 2007 and the Head of Government Affairs, MPOA from 2000 to 2005.

Datuk Daud has an across-the-board experience of plantation agriculture, occupational safety and health, advisory and plantation management in his professional career despite his humble beginning of cultivating rubber, palm oil, cocoa, fruit trees and livestock in Tawau. Planting rubber was his first instance exposure to the industry in 1974 and in the same year had passed the Outward-Bound Course at Lumut with a Merit Badge and recognised in the OB Roll of Honour in 2007.

He holds a Master of Management from Universiti Malaya, Malaysia and a Post-graduate Diploma in International, Commercial and European Law from University of Sheffield, United Kingdom and a bachelor's degree (Hons) in Law from the same university.

He was awarded the Panglima Jasa Negara (PJN) which carries the title "Datuk" by DYMM Seri Paduka Baginda Yang di-Pertuan Agong on 4 June 2016.
Mr. Sahat M. Sinaga is from Nainggolan – Samosir Island,Indonesia. He graduated with Master degree in Chemical Engineering from the Institute Technology of Bandung (ITB) in 1973 and he has various working experiences as below.
Executive Director, GIMNI – Indonesian Vegetable Oil Association (April 2007 – present)
Chairman, Indonesian Palm Oil Board DMSI from (June 2020 - up to now)
Chairman, Masyarakat Biohidrokarbon Indonesia (March 2019 – present)
President Commissioner, PT eBio Neo Indonesia (July 2019 – present)
Commissioner, PT Katalis Sinergi Indonesia (Dec 2020 - up to present)
Supervisory Board in the field of Renewable Project Development, PT Berkah Agro Enersi (April 2012 – June 2017)
President Director, PT Jatisari Srirejeki (July 2003 – December 2006)
Expert Staff of the Chief Operating Officer, BULOG
Commissioner, PT Perkebunan Nusantara XIII (1999 – 2002)
Commissioner, PT Socfindo (1998 – 2001)
Agro Industry Director, State Owned Enterprise – Kantor Menteri Negara BUMN (May 1998 – January 2000)
Agro Industry Director, PT Bakrie Sumatera Plantations (1997 – 1998)
Director, PT Bakrie & Brothers Tbk (1990 – 1996)
President Director, PT Bakrie Pipe Industries (1988 – 1993)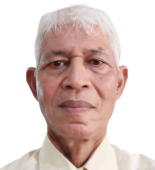 Dr. Azis Ariffin, He started his career at the Malaysian Rubber Producers Research Association (MRPRA) after completing his PhD at the University of Newcastle, England. Then he was incorporated into palm oil industry (plantation, milling, and refining) for the last 30 years; as researcher in MPOB, executive in Sime Darby Plantation (Refinery Division). He was an Associate Professor at UPM for 15 years, lecturer at Faculty of Food Science and Technology (FSTM) and research fellow at the Institute of Advance Techology (ITMA) UPM and was a board member and non executive director of Dolphin International Berhad, where his invaluable experience and practical knowledge is poured back to the practitioners of the upstream and downstream oil and fat industry.
Dr Puah Chiew Wei, Ph.D. is the Director of Strategy and Policy, Council of Palm Oil Producing Countries (CPOPC). She graduated from University of Malaya, Malaysia with a Bachelor of Science (Major in Applied Chemistry and Minor in Statistics) and Ph.D. in Chemistry. She has more than 20 years of working experience in the Malaysian oil palm industry.

Prior to be appointed as the Director of Strategy and Policy, Dr. Puah served as Minister at the Embassy of Malaysia in Brussels, Belgium and Mission of Malaysia to the European Union, concurrently as the Regional Manager (Europe) of the Malaysian Palm Oil Board (MPOB) from September 2017 to June 2022. Her other appointments included the Head of Sustainability and Climate Change Centre, MPOB (2013 to 2016) and Leader of Sustainability and Climate Change Group, MPOB (2009 – 2013). She was seconded to the Ministry of Plantation Industries and Commodities, Malaysia from November 2008 to March 2011, particularly for the implementation of the biodiesel programme in Malaysia.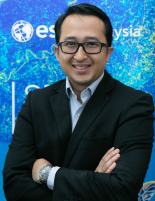 Wan Mohd Firdaus,
Industry Consultant Team Manager
Esri Malaysia

As Esri Malaysia's Lead Consultant, Firdaus is responsible for leading the consulting team to accurately address National Government organizations need with holistic and sustainable enterprise solutions that solve unique and complex issues.

Firdaus has spent more than 19 years in the geospatial industry, taking on a variety of roles, including engineer, developer, consultant, trainer, and data manager. During this period, he has worked on numerous high profile projects including Shell Global enterprise GIS, JUPEM defence and production mapping, NAVTEQ navigable geodatabases and POIs data acquisition for Google.

Firdaus is also qualified in computing and information systems, while possessing technical certification from both Esri and Microsoft, including Certified Associate in Project Management (CAPM).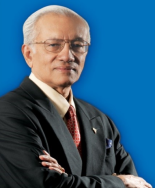 M. R. Chandran KMN, FISP, FBIM, FMOSTA, FMIM
Chairman
IRGA Sdn Bhd & Advisor to RSPO

A 60 year veteran of the agro-commodity industry with professional experience in the executive management of business operations within the plantation tree crop commodity sector. Having served for 35 years, he retired as Director of Franco-Belgian multi-national, SOCFIN Company Berhad in 1996.

He was the start-up Chief Executive of the Malaysia Palm Oil Association (MPOA) and served this umbrella entity tasked with the function of balancing the needs and interests of the various sectors for synergy and development of the Malaysian plantation industry, from 1999 to 2005.

He played a pivotal role in the formation of Roundtable on Sustainable Palm Oil (RSPO) in 2003 with the objective of promoting the growth and use of sustainable palm products through credible global standards & engagement of stakeholders. Appointed as the Chairman of the first RSPO meeting in 2003, elected as a Vice-President during 2004/2005 term and currently the Advisor to RSPO.

Over the years he has held responsible positions in commodity sector forums and continues to serve the industry in an advisory and consultancy capacity to various business ventures and trade associations, at both regional and international level. He is presently the Chairman of IRGA Sd Bhd and also serves on the board of number of commodity linked companies in the region.

A graduate of the University of Adelaide in Agricultural Economics and Technology, he has been honoured with the Fellowship awards of the Incorporated Society of Planters(FISP), the Malaysian Oil Scientists' & Technologists' Association (FMOSTA), the British Institute of Management(FBIM), The Malaysian Institute of Management(FMIM) and the Honorary Membership of RSPO.
Moderators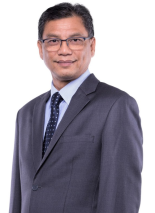 Dr. Ruslan Abdullah, is currently the Director of Science, Environment, and Sustainability at the Malaysian Palm Oil Council. He has been involved in the oil palm industry for more almost 38 years.

He graduated with a Bachelor of Science (Hons) from the Malaysian Agricultural University (UPM) in 1984. He then pursued and obtained his Ph.D. in 1988 from the University of Nottingham, England with a world breakthrough in the field of Cellular Biotechnology that was published in Nature Biotechnology, New Scientist, Science and highlighted in the New York Times.

Dr Ruslan started his career as a researcher at Kumpulan Guthrie Berhad and later moved to teach at the National University of Malaysia (UKM) as an Associate Professor from 1994 to 2005. Together with his team of post graduate students, Dr Ruslan chart a few other worlds' first in the field of gene manipulation and plant genetic engineering.

In 2006, Dr Ruslan left UKM to re-join his former employer, Kumpulan Guthrie Berhad as its Director of Research & Development. Following the merger of the Kumpulan Guthrie Berhad, Golden Hope Berhad, and Sime Darby Berhad in 2008, Dr Ruslan was appointed as a Senior Vice President at the new Sime Darby Plantation Berhad. He was also made the Head of Plantation Research and Head of Minamas Research Centre, the R&D arm of Sime Darby in Indonesia. Among other responsibilities, his main task is to improve productivity, optimize crop recovery, and minimize losses.

Dr Ruslan joined Malaysian Palm Oil Association as its Director, Sustainability, and Research & Development in 2014. Later in 2017, Dr Ruslan joined the Malaysian Palm Oil Council as its Director of Science, Environment, and Sustainability.
SAMENTA Malaysia,
Speaker's Name: Datin Lorela Chia Yu Chia
Designation: Vice President 1 of the Machinery & Engineering Industries Federation (MEIF) and Deputy Central Chairman, Small & Medium Enterprises Association (SAMENTA) Malaysia

View Profile